The most expensive mezcal ever sold for $74,000 on 23 July 2014. It was a bottle of Mezcal Meshico called El Conjuro del Chamán created by Fernando Altamirano. Fernando has developed quite a niche in creating and marketing (if not always actually selling) "most expensive X" for a range of beverages (even water).
See the top 10 most expensive mezcals for sale in 2023.
The Bottle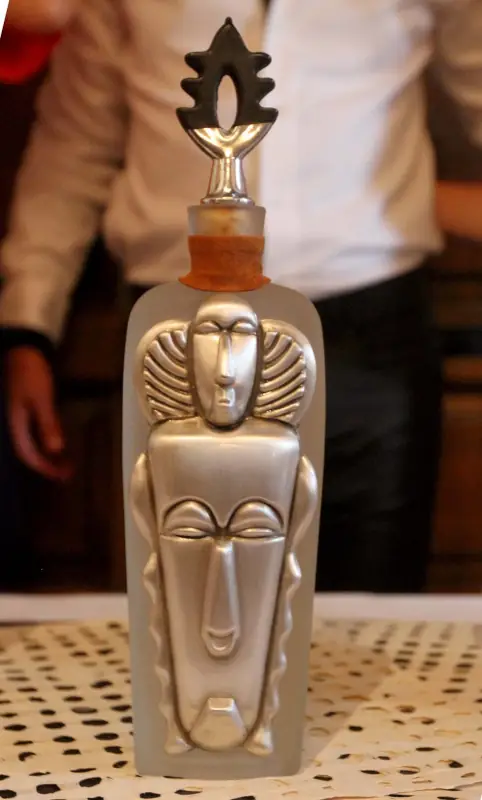 A glass bottle covered in platinum, designed by Mexican artist Alejandro Gómez Oropeza. The bottle/work of art was called El Conjuro del Chamán, which translates to "the shaman's incantation" in English, which is also the title of his one of his oil paintings.
The Mezcal
The bottles in El Conjuro del Chamán series contained an ensamble of mezcal from Santiago Miahutlán, Oaxaca. There were 400 bottles of 666 ml produced. The mexcal is a blend of Espadin, Bicuixe and Madrecuise agaves at 47% ABV. It was made by master mezcalero Valente Ángel Garcia in 2014. It is classed as Artisanal.
The same maker, Valente, also makes mezcal for Alipus. You can buy a similar blend, Alipus San Andres Ensamble, for around $75.
The mezcal was also marketed as the "first black mezcal". It was produced through a chemical process with the idea of linking to Oaxaca's famous "barro negro" or black clay.
Source: Dineroenimagen.com (Spanish)
The Guinness World Record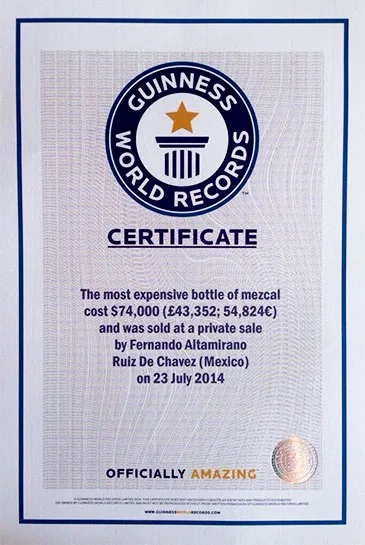 The bottle was sold to an unnamed French spirits and wine collector on 23 July 2014 for 55,000 Euros. It was later certified as the most expensive bottle of Mezcal at $74,000.
The Series
The platinum bottle was part of a larger series of 400 bottles. The other bottles are made of glass, and originally sold for $5,525 pesos, or around $420 USD at the time of release in 2014.
The Man Behind It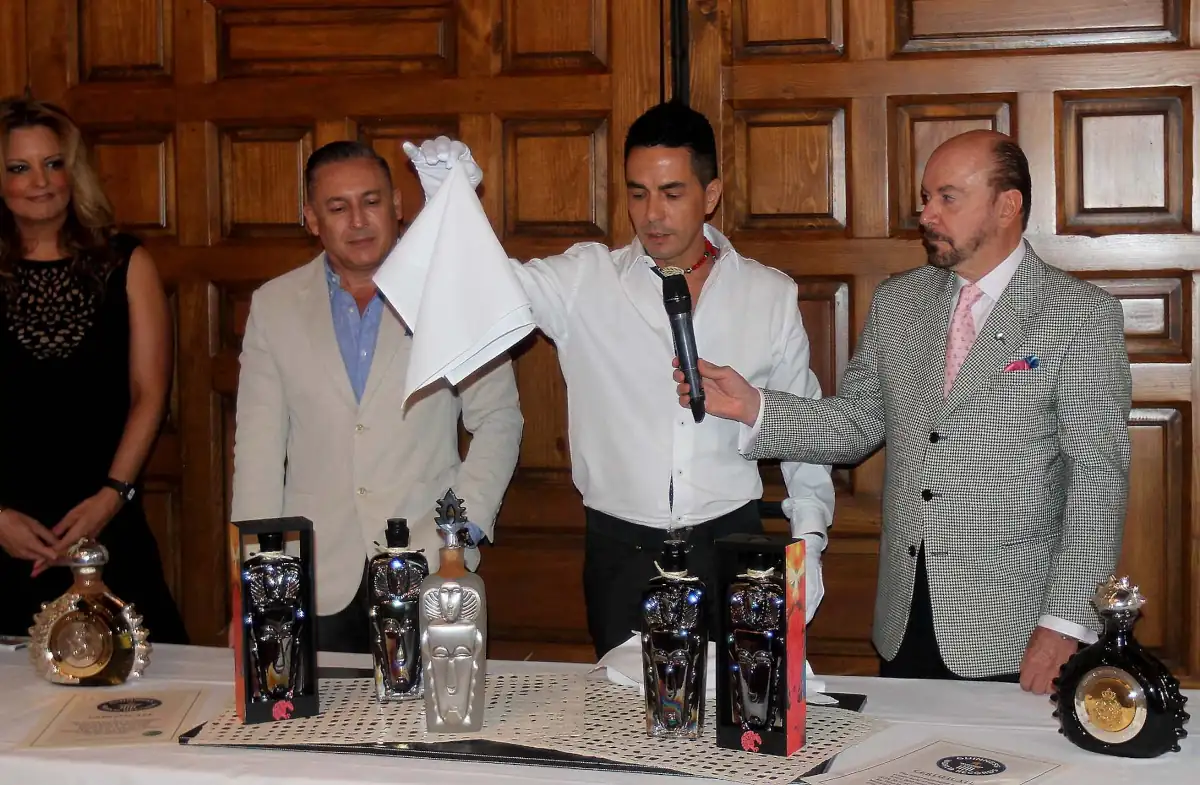 Fernando Altamirano is the founder and CEO of Tequila Ley .925. He has also promoted a number of projects aiming to get the world record for the "most expensive bottle of" X. He currently has the records for the most expensive mezcal ($74,000), most expensive bottle ($225,000), and most expensive bottle of water sold at auction ($60,000).
Other record attempts
Most expensive tequila
In 2007 he launched a project to beat his own record for most expensive bottle with Tequila La Ley Del Diamante / Diamond Sterling Tequila. The bottle was made of platinum and covered in 4,100 diamonds. He first targeted a $1m sale but was unsuccessful. A few years later he relaunched with a $3.5m price tag but was again unsuccessful. Read more about the fascinating story behind the $3.5m tequila.
Most expensive cognac
Fernando has also created a range of bottles, filled with 100 year old Henri IV cognac. He aims to sell them for 4 million Euros. There is one each marketed as tributes to Dubai, King Henri IV, Walt Disney, and Michael Jackson. The bottles are made of gold and inlaid variously with diamonds, sapphires, rubies and emeralds.
Others
Fernando is also behind record attempts for the world's most expensive Belt (Constanza Patron) and Perfume bottle (Tribute Amedeo Modigliani).