One country dominates the tequila market and it's not Mexico. The USA buys more than half of all tequila produced (52% in 2022). Mexico is the second largest market for tequila representing 36% of total volume in 2022. Mexico is however the largest consumer of tequila per capita. The third biggest market for tequila is Germany, although they are well behind with just 1.6% of the tequila market.
The top 10 countries for tequila
The USA is by far the largest market for tequila, representing over 50% of total demand and receiving over 80% of total exports from Mexico. In 2022 the USA imported 338.5 million liters of tequila, a whopping 50.2 million liters more than the previous year. Just the volume growth in the USA in 2022 was worth more than the total consumption of the next nine importing countries put together.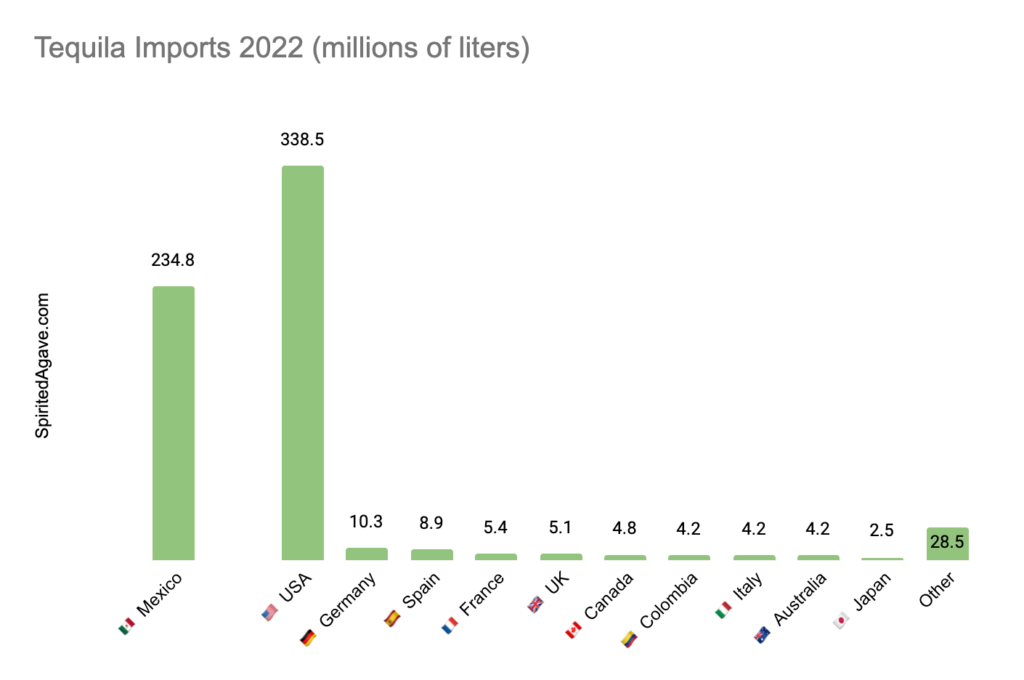 Growing global tequila market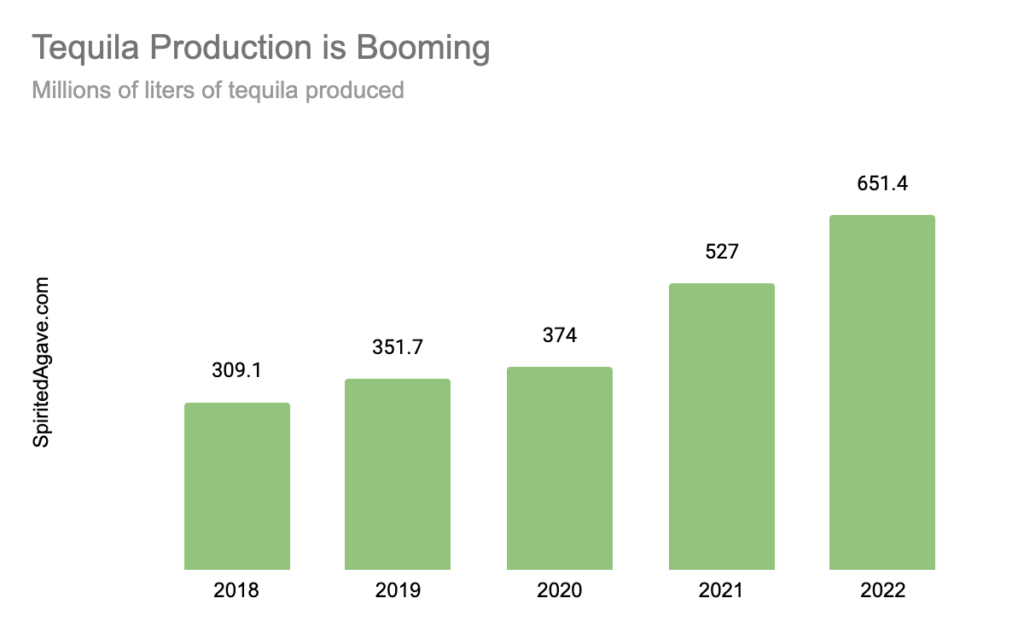 Global tequila production reached a new record in 2022, with over 650 million liters produced. This is more than double the production of just four years ago and represents growth of 23.6% over 2021. Tequila exports increased by 23.3% in 2022 just behind growth in Mexican consumption of 24.2%.
Fastest growing markets for tequila
The USA had the highest volume growth in 2022 globally, increasing its imports of tequila by over 50 million liters, a new record. The next largest volume increase was for Mexico, which increased by 46 million liters over 2021. Spain was next in line, increasing its tequila imports by 4.2 million liters in 2022.
In terms of percentage growth in tequila, for top 10 importing countries Italy was the fastest growing market, more than doubling its imports with 103% growth. Spain had the second highest growth of the group with a 90% increase over 2021.
There were 52 countries with tequila imports over 100,000 liters in 2022. Of this group 17 grew at more than 100%, with the highest growers being Portugal (+336%), Singapore (+317%) and Indonesia (+312%). The fastest growing countries were widely spread, with representatives from Europe, Asia, the Middle East, South America and Africa.
Shrinking markets for tequila
While just about all significant markets for tequila grew in 2022 there were some exceptions. Of the top 50 global markets for tequila, three had decreases in imports: Latvia (-9.8%), Russia (-38%) and New Zealand (-21%).
Read more about the tequila market
Source: All figures sourced from Mexico's regulator for Tequila, the CRT