Tequila companies throw around a lot of words when talking about product sales: "premium", "super-premium", "prestige", "double-platinum black diamond" (ok I made the last one up). But have you ever wondered if these sales categories actually mean anything? So did I. It turns out some do, some don't.
Here I break down the common price categories for tequila and other spirits according to the industry with brand examples.
IWSR's Price Categories
The IWSR is known as the leading source of data and trends around the liquor sales around the world. They cover beer, wine and spirits and monitor sales in a range of categories and subcategories in 157 countries. Many in the industry use their categories and figures when referencing spirits sales.
The IWRS divides spirt into seven price categories based on the average retail sales price in USD: Value, Standard, Premium, Super-Premium, Ultra-Premium, Prestige and Prestige Plus.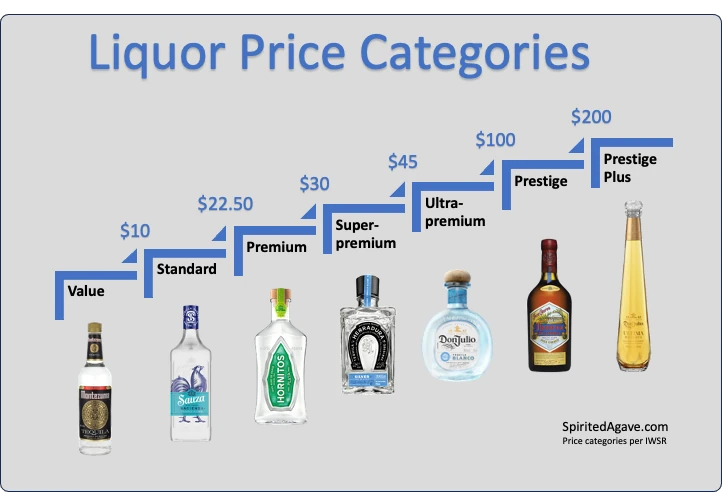 DISCUS Price Categories
DISCUS is the Distilled Spirits Council of the United Sates. DISCUS also maintains price categories for analysing the spirits industry. However their prices are based on liquor supplier wholesale rates (what the spirit manufacturers earn, not what the end consumer pays). The categories are also different depending on the liquor – for example the tequila prices are set higher than bourbon prices for each category.
| Price Category | Supplier revenue per bottle | Tequila Brand Examples |
| --- | --- | --- |
| Value | Up to $8.29 | Pepe Lopez, Sauza Giro |
| Premium | $8.30-$14.19 | Sauza Blanco, El Jimador Silver, Olmeca Altos |
| High End Premium | $14.20-$20.79 | Cazadores, Teremana, Espolón, Milagro, Sauza |
| Super Premium | $20.80+ | Patrón, Casamigos, Don Julio, Herradura, Sauza |
DISCUS price categories are based on supplier pricing, not retail and differ depending on the spirit.
Industry Member Categories
Pernod Ricard Liquor Price Categories
Pernod Ricard is a global spirits giant and owner of tequila brands including Olmeca Altos, Avion and Codigo 1530 (founded by country singer George Strait). Their categories are like those used by IWSR but with slightly different price points.
Pernod Richard's price category ranges for liquor sales:
| Price Category | Price Range | Tequila Brands |
| --- | --- | --- |
| Super Premium | $26-$40 | Olmeca Altos |
| Ultra Premium | $40-$90 | Codigo 1530, Avion, Del Maguey (mezcal) |
| Prestige | $90+ | Codigo 1530, Del Maguey |
Becle Liquor Price Categories
Becle is the largest tequila company globally, responsible for almost 30% of total tequila sales. The company is 87% owned by the Beckmann family, decedents of the first person to produce tequila under royal license from Spain, over 250 years ago. Becle owns the Jose Cuervo, Maestro Dobel, 1800 and Gran Centenario tequila brands among others.
Becle uses the same terms as IWSR when identifying price categories but doesn't disclose the price range they apply. However, based on how they place their brands in each category they take a lower price point than used by IWSR. For example, Becle classifies Jose Cuervo Especial as "Premium". This mixto tequila sells for an average of $21 for the 750ml, just below the $22.50 cut-off for IWSR's premium category.
| Price Category | Tequila Brands |
| --- | --- |
| Premium | Jose Cuervo Especial |
| Super premium | Jose Cuervo Tradicional, 1800, Gran Centenario |
| Ultra premium | 1800, Maestro Dobel |
| Prestige | Jose Cuervo Reserva de la Familia |
Besides all this, in my opinion, any classification standard that would call Jose Cuervo Gold "premium" needs to take a good look at itself.
Use of Price Categories for Liquor
Market Analysis for Industry Participants
Spirits are commonly categorised based on their sales price to make it easier to differentiate between different segments of the market. For instance, while spirt sales overall have been growing slowly in recent years (low single digit percent), higher priced segments have been growing more rapidly (sometimes low double-digit growth).
Marketing to Consumers
Marketers are known for their exaggeration and puffery. Every new tequila on the market is advertised thick with superlatives and we're left in no doubt that it's the highest quality, most premium-ist tequila ever made.
In reality, there's not much to stop marketers using whatever terms they like, as long as they don't step outside of the CRT's requirements for labelling tequila. For instance, it can only be labelled as tequila if it has been made with at least 51% agave (a pretty low-bar if you ask me – to be mezcal it must be from 100% agave).
Many tequila brands are positioned as "luxury tequila". Brands like Don Julio, Komos and Patrón El Alto use the term "luxury" in their marketing. There's no recognised price category called luxury, but it would align closest to the top range of Ultra Premium and Prestige.