Ron White's tequila is called Number JUAN Tequila. The tequila brand was founded and is owned by American comedian and actor Ron White and Mexican American comedian Alex Reymundo. The company was launched in early 2012 making them relatively early to the celebrity tequila craze. Although Ron quit drinking in early 2021 he still promotes the tequila brand.
Alex serves as the president of Number JUAN tequila. Alex and Ron are also brothers in-law. The CEO of Number JUAN Tequila is Rich Espe. Rich is also a part owner in the company.
"I quit drinking, I didn't quit selling tequila"

Ron White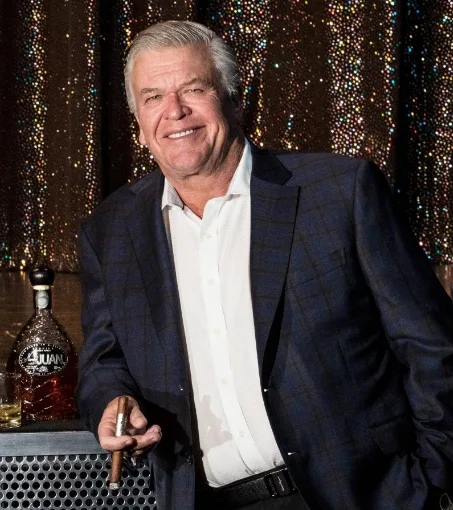 What kinds of tequila does Ron White's Number JUAN Tequila make?
Tequilas produced by Number JUAN are all 100% blue agave and made using traditional stone ovens and not diffusers. The company also prides itself on being additive free.
Number JUAN Blanco
ABV: 40% (80 proof)
Price: $45-$50
Agave: 100% Blue Agave
Aging: Unaged
Notes: Very smooth for a blanco tequila, although some find the flavors a bit strong.
Number JUAN Reposado
ABV: 40% (80 proof)
Price: $55-$65
Agave: 100% Blue Agave
Aging: 9 months in a blend of French and American oak
Notes: At nine months aging this is well above most reposados who age for just two months. Flavors are more comparable to other añejos but still with cooked agave.
Number JUAN Extra Añejo
ABV: 40% (80 proof)
Price: $110-$120
Agave: 100% Blue Agave
Aging: 3.5 years in charred American oak barrels (earlier versions may be aged 5 years)
Notes: Flavors of oak and black pepper, along with more vanilla and caramel compared to the reposado.
Number JUAN in a Million Extra Añejo
ABV: 40% (80 proof)
Price: $480-$550
Agave: 100% Blue Agave
Aging: 116 months (9.6 years) in American oak barrels
Notes: Produced as a 10th anniversary special edition. The agave for this batch was harvested with the help of Ron White and Alex Reymundo themselves. They set aside 2,500 liters to age and be released for their 10th anniversary.
Number JUAN Tequila bottles
The bottles for Number JUAN are made of colorless glass and resemble an agave piña but probably look more like a normal pineapple. Each bottle top is a different color and the Number JUAN in a Million has a wax coating. Regalo de Dios tequila uses the same bottles with slightly different labels.
Distillery for Number JUAN Tequila
Number JUAN Tequila is produced at Destilería Rivesca, NOM 1531, located in Amatitan, in the central lowlands of Jalisco. The distillery was opened in 2006. Rivesca is owned by the Rivera family who have been farming agave for four generations.
Who makes Number JUAN Tequila?
The tequila is made by Master Distillers Nestor Rivera and Cruz Rivera at the Rivesca Distillery, owned by the Rivera family.
Other brands produced at the distillery
A total of 11 brands are produced at Destilería Rivesca, the most popular of which is Number JUAN. The distillery owners produce their own brand, called Oro de Lidia, and previously had a product line called Toro de Lidia.
The second most popular brand produced at Rivesca is Regalo de Dios, which is sold in the same bottle format as Number JUAN Tequila, just with a different label.
Number JUAN vs Regalo de Dios Tequila
Both tequilas are produced at the same distillery, Rivesca, and are sold in the same bottle format just with different labels.
Number JUAN Tequila is bottled at 40% alcohol while Regalo de Dios is bottled at 38%. Regalo de Dios is aimed at the Mexican market and is not available in the United States (in fact to be sold in the US, spirits must be a minimum 40% alcohol).
Both brands have a blanco, reposado and extra añejo however Regalo de Dios also offers an añejo while Number JUAN dos not.
Are Number JUAN and Regalo de Dios the same tequilas?
The tequilas are not exactly the same, as they are bottled at different alcohol percentages (40% for Number JUAN and 38% for Regalo de Dios). This means more distilled water is added to Regalo de Dios. Apart from that they are made at the same small distillery and it is likely they follow very similar methods, however there is no guarantee.
Who owns Number JUAN Tequila?
Number JUAN Tequila is owned by Ron White, Alex Remundo (both co-founders) together with Rich Espe (CEO) and Fernando Del Toro (Head of Manufacturing).
Fun fact
Number JUAN has their own 100ft yacht in Cabo that you can hire for up to 30 guests. A tour includes a private chef and personal bartender serving Number JUAN Tequila.
Number JUAN Tequila celebrity founders
Ron White, nickname "Tater Salad"
Ron White was born 18 December 1956 in Fritch, Texas. The comedian is known as a charter member of the Blue Collar Comedy Tour. Previously known for drinking Scotch while performing his standup routine he later switched to tequila when he founded Number JUAN Tequila.
However, White stopped drinking alcohol in early 2021 after hypnotherapy and sessions of ayahuasca. While performing he still appeared on stage with a bottle of Number JUAN tequila but confirmed it was not tequila in his glass.
Ron White retired from stand up comedy at the end of 2022.
Alex Reymundo
Comedian Alex Reymundo was born in Acapulco, Mexico moving to Texas when he was two years old, then to Kentucky where he currently lives. Alex won his first American Latin Media Arts Award (ALMA) in 2008 for his comedy special "Alex Reymundo Hick-Spanic, Live in Albuquerque".
Alex's sister Margo Rey is married to Ron White.