Patrón en Lalique is Patrón's highest category extra añejo tequila, released in very limited batches in bottles made by renowned French glassmaking company Lalique. So far there have been three releases, known as Serie 1, 2 and 3. Each release has had a different bottle and blend of tequila. All series of Patrón en Lalique have had a $7,500 suggested retail price but some now sell for much more.
Here I compare the different releases and look how they stack up to other Patrón products, as well as looking at Lalique and their previous partnerships in the spirit world.
Table of Contents
How much does Patrón en Lalique cost?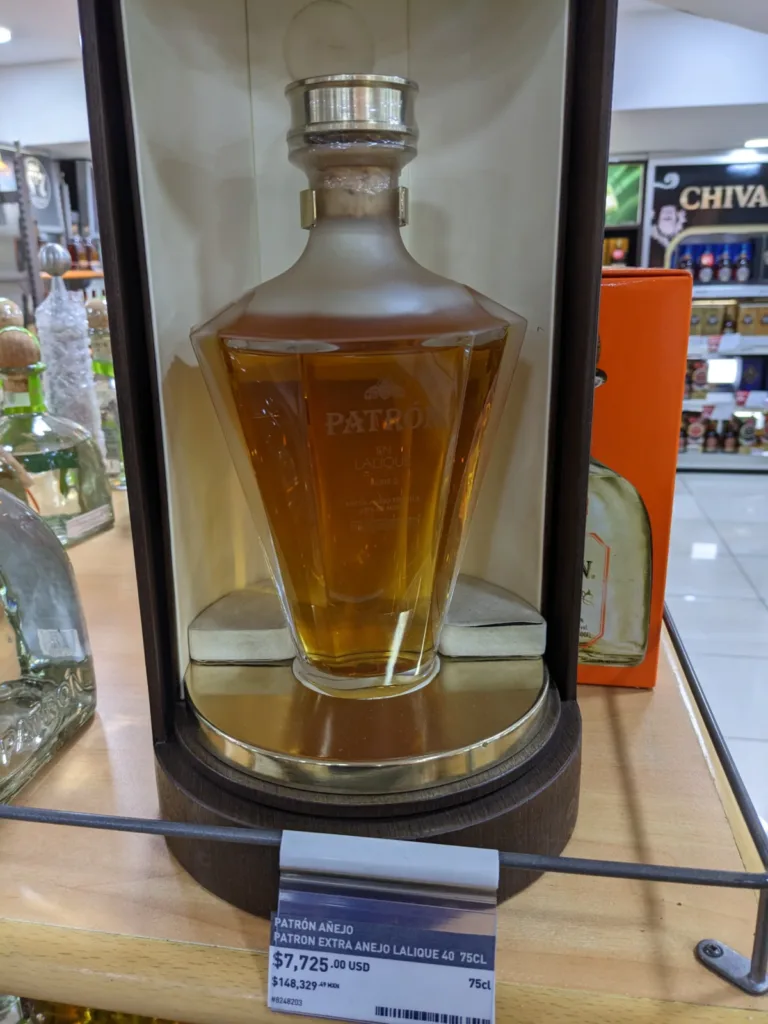 The suggested retail price for each of the three series of Patrón en Lalique was $7,500. The Series 1 (Patrón en Lalique Serie 1) currently sells for around that, with an average price of $7,600. Patrón en Lalique Serie 2 currently has an average price of $8,700 which the Serie 3 has a price of $9,650.
Comparison of Patrón en Lalique Series
Patrón en Lalique Serie 1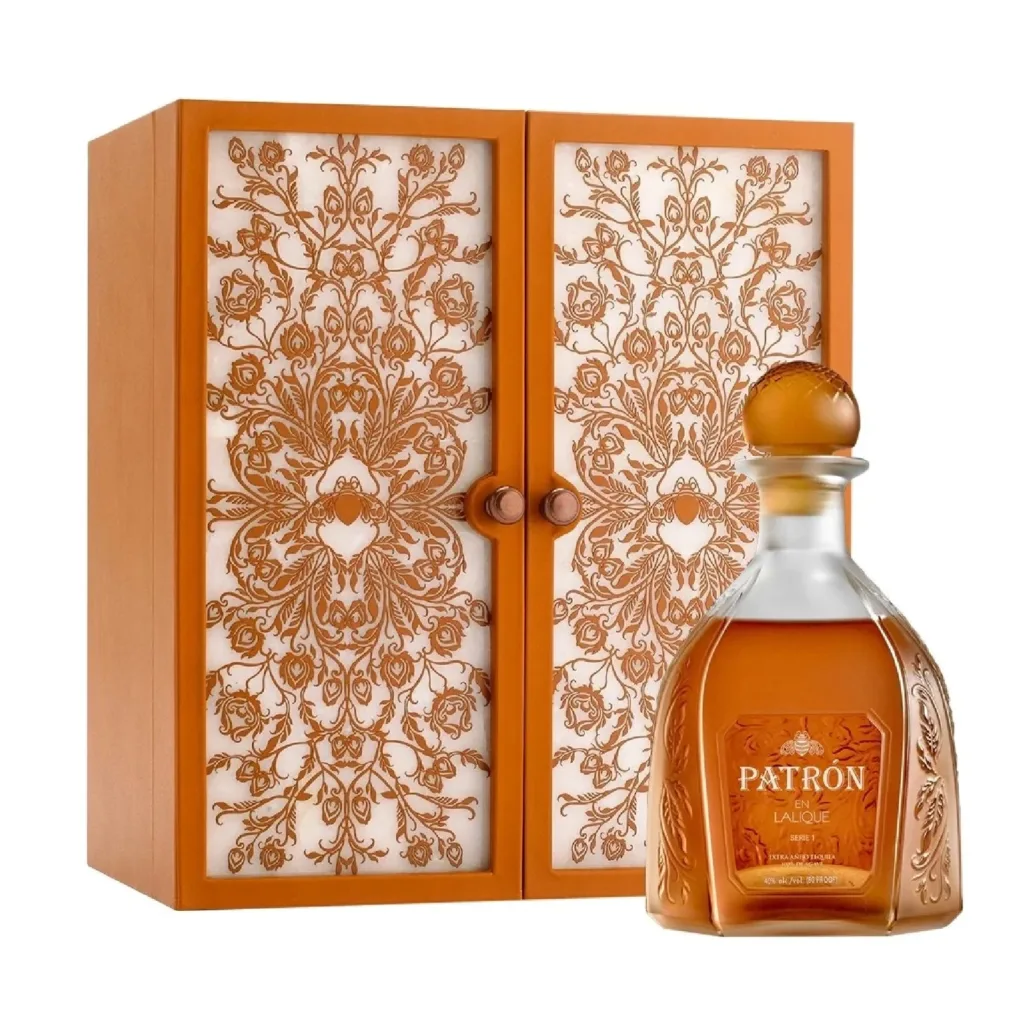 Patrón en Lalique Serie 2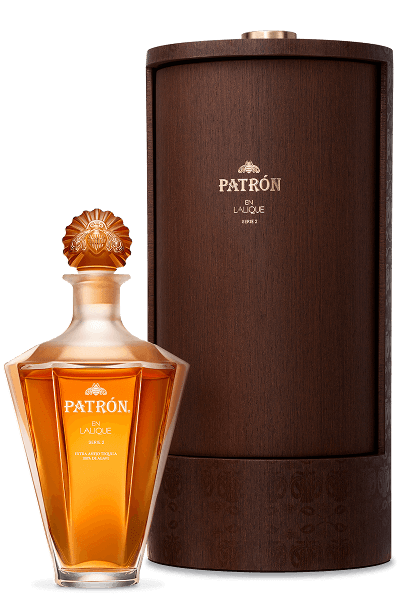 Patrón en Lalique Serie 3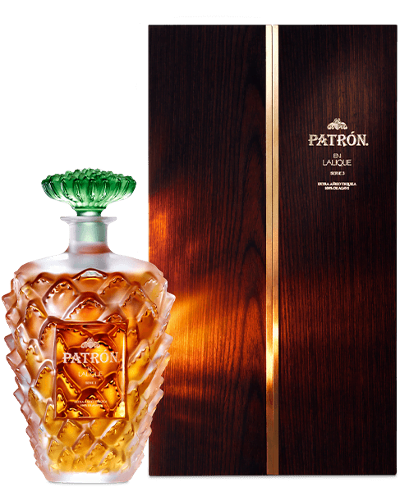 | | Serie 1 | Serie 2 | Serie 3 |
| --- | --- | --- | --- |
| Description | Blend of oldest and rarest tequilas, aged at least 4 years | Aged for 8 years in American oak, French oak and sherry barrels | Blend of 14 extra añejo tequilas, aged in 6 different barrel types |
| Notes | Sweet caramel, honey, vanilla, dried fruit and nuts | Sweet honey, oak, agave and fruits | Spices, dried wood, sherry wine |
| Bottle | Similar to normal Patrón but with additional detail in Art Nouveau style. Amber stopper | Art Deco style bottle with crystal bee stopper | Sculpted bottle in shape of piña with green bottle stopper in shape of flower |
| Released | 2015 | 2017 | 2022 |
| Bottles made | 500 | 299 | 299 |
| Release price | $7,500 | $7,500 | $7,500 |
| Current price | $7,600 | $8,700 | $9,650 |
| Class | Extra añejo | Extra añejo | Extra añejo |
| ABV (proof) | 40% (80 proof) | 40% (80 proof) | 40% (80 proof) |
| % blue agave | 100% | 100% | 100% |
Comparison table of Patrón en Lalique tequila series releases
What is Lalique?
Lalique is a French glass art company, named after its founder, glassmaker and jeweler René-Jules Lalique in 1888 and based in Paris. It is famous for producing perfume bottles, vases and even hood ornaments during the early 1900's. Its first brand collaboration was with perfumer François Coty in 1907.
In 2008 Lalique was acquired by the Swiss company Art & Fragrance, who changed their name to Lalique Group in 2016. Lalique Group is based in Zurich and listed on the Swiss Stock Exchange. Its CEO is Roger von der Weid.
The group consists of different product lines including Crystal, Lalique Parfums, cosmetics, hospitality and licensed perfumes for other brands (including Jaguar, Bentley, Superdry and Brioni). Lalique also owns single malt producer The Glenturret, the oldest working distillery in Scotland.
Why is Patrón en Lalique so expensive?
The Patrón en Lalique series are some of the most expensive tequilas available. In the luxury world prices can tend to get carried away. But when there are so few bottles released, 299 in the case of the second to series of Patrón en Lalique, there only needs to be a few people willing to pay to justify the price. To put this in context, Patrón sells around 40 million bottles of tequila annually.
The bottles themselves are also expensive, taking time to craft and being from a renowned glassmaker. Lalique decanters on their own cost between $2,000 and $4,000 which adds significantly to the bill. Creating unique decanters in such small batches will only increase costs further.
By offering a luxury line up like Patrón en Lalique the brand is positioning itself for all its consumers as a high quality producer. The theory is that this raises its esteem among all drinkers, even those who will never consider spending such amounts. The fact that Patrón has bottles costing $10,000 makes customers feel better about paying $60 or $70 for some of their more affordable offerings.
Alternatives to Patrón en Lalique
Patrón en Lalique is a series of extra añejos, meaning the tequila has been aged for more than three years. Serie 1 was aged for a minimum four years, Serie 2 was aged for an average of more than seven years and Serie 3 was a combination of ages up to eight years.
Patrón has a number of extra añejos in its line up for a fraction of the price of Patrón en Lalique.
Patrón Extra Añejo

aged at least three years
Price: $70-$80
Aged in French, American and Hungarian oak

Patrón Extra Añejo 10 Años (Patrón X)

Aged for 10 years
Price: $300-$380
Aged in American and French Limousin oak

Gran Patrón Piedra

aged for four years
Price: $330-$400
Stone ground using tahona
Aged in French Limousin and new American oak

Gran Patrón Burdeos

Aged for more than one year
Price: $450-$550
Aged in used American and new French oak barrels, finished in Bordeaux wine barrels
The most expensive of these alternatives is Gran Patrón Burdeos. Considering it's not even an extra añejo, the pricing looks a little too high for just the liquid. However it does come in a premium bottle.
Surprisingly there is an extra añejo aged even longer than the Patrón en Lalique series and it's available for as low as $300. The Patrón Extra Añejo 10 Year is still not cheap by any means, but compares very well to other expressions. While it comes in a unique bottle which is a replica of Patrón's first bottle design, it is not as fancy as the others, which may account for its relative affordability.
Who makes Patrón en Lalique?
The tequila for Patrón en Lalique is made by Patrón at its dedicated distillery, Patrón Tequila Hacienda in Atotonilco El Alto, NOM 1492. The Patrón distillery is In the highlands of Jalisco, 90 km east of Guadalajara. The crystal decanters are made by Lalique, in its glass factory in Wingen-sur-Moder in north-eastern France.
Other spirit collaborations with Lalique
The cost of Patrón en Lalique starts to look like a good deal when compared to the prices of other Lalique collaborations in the spirits world, with prices hitting five and even six figures.
The Glenturret and Lalique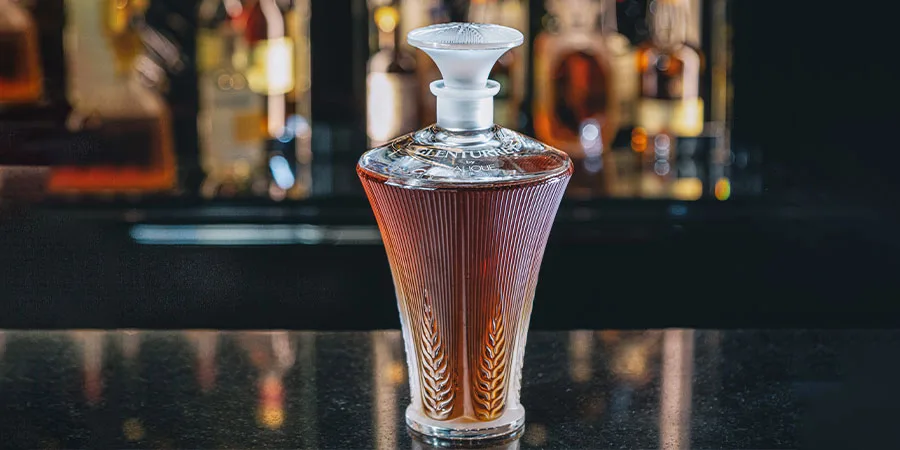 It makes sense that they would collaborate with the single malt whisky that they bought in 2018. The Glenturret has launched a Trinity collection, with the first two editions "Provenance" and "Prowess" already available. A third release "Passion" will be the next available. Each series has just 320 bottles.
The Provenance is a 33 year old single malt, and the Prowess is a blend of two batches at 33 years old. Provenance costs £9,800, or around US$12,000. They stepped it up for the second series, the Prowess costing £11,800, or around US$14,300.
The Macallan in Lalique
Macallan's oldest ever single malt, at 72 years, was released in a Lalique decanter in 2018. Distilled in 1940, the brand produced 600 bottles. Priced at $60,000 at launch, the bottles now sell for upwards of $130,000.
The brands also partnered on the "Six Pillars" series, with a range of bottles and whisky aged from 50 to 65 years. These bottles range in price from $150,000 to $230,000. A more affordable range is The Macallan Decanter Series 'No. 6. in Lalique', selling for around $5,000.
Hardy Cognac's Four Seasons collection
Based on perfume bottle designs by René Lalique, these four bottles have sculpted fan-like stoppers representing the grape vine over the four seasons. The releases are called Le Printemps, L'Été, L'Automne, and L'Hiver and were limited to 400 bottles each. They currently sell for between $13,000 and $20,000.
Hardy has also partnered with another French glass house, Daum, for its Essential Element series.
Beluga Epicure Vodka
Lalique partnered with Beluga Noble Russian Vodka in 2016, to release 1,000 special edition decanters made by Lalique. The bottles currently sell for around $10,000.