Along with the massive growth in the tequila industry there has been continual innovation. New processes and formats are being released, from cristalinos, to hard seltzers and ready to drink cocktails. A rising trend is for pink tequila releases. How many brands offer pink or rosa tequila and how do they make it anyway? Find out here.
Table of Contents
How do they make pink tequila?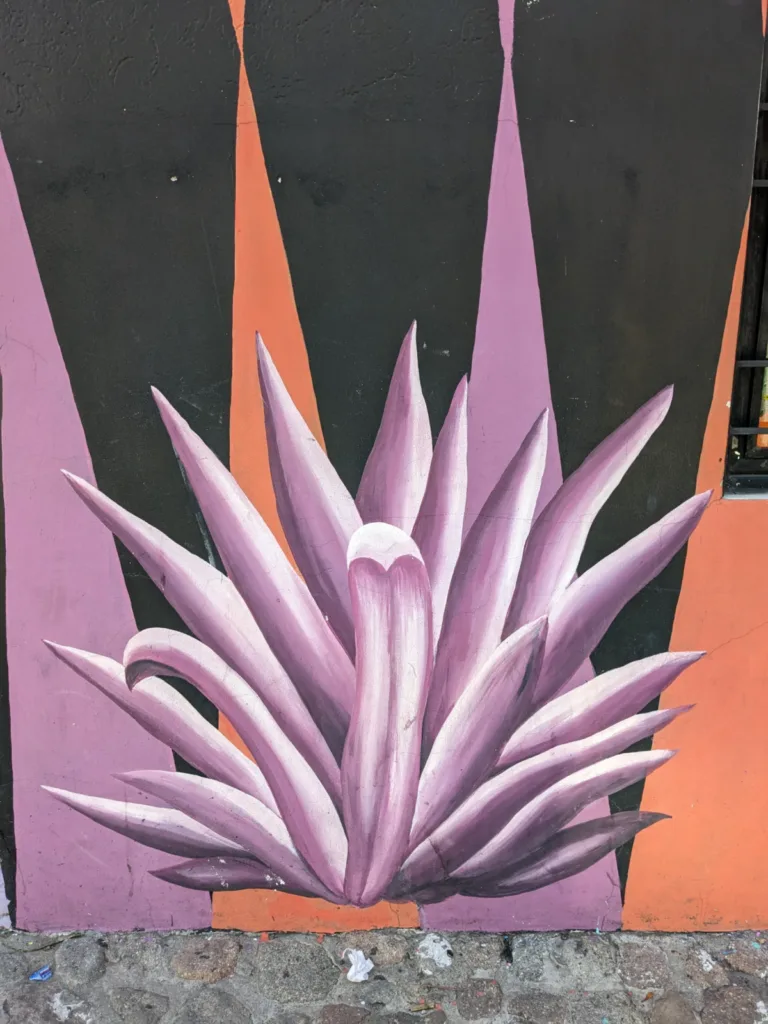 Tequila can be made pink in a few ways:
Pink color indirectly from resting tequila in wine, port or sherry barrels
Pink infused tequila, e.g. pink grapefruit
Pink color directly from added coloring
Wine or grape-based coloring
Pink or rosa tequila can also be made by resting the tequila in used wine, port or sherry barrels. Remains of the leftover liquid in the barrel add color and some flavor to the tequila.
Blanco varieties are aged less than two months so don't pick up many of the woody/vanilla/caramel type flavors of tequila that has been rested for longer.
Most tequila is aged in bourbon barrels. This is because of their wide availability – bourbon must use new barrels for each batch. This, plus the high volume of production means there is a good market for used bourbon barrels.
Pink infused tequila
Infused tequila cannot technically be called "tequila" but must be referred to as something like "tequila infused with…" For example the brand Aha Yeto and its Diva blanco. This is a blanco tequila infused with hibiscus flower, leaving a pink coloring.
Another infusion example, the brand Butterfly Cannon makes a Pink Grapefruit infused tequila, with 40% ABV (80 proof). However, despite what you might think, the pink color actually comes from carmine food coloring. See below.
Food coloring
Several brands add coloring to turn the tequila pink. The coloring is added to unaged, blanco tequila. Very vibrant colors are possible with only small amounts of color.
A common source of the pink food coloring is actually from bugs that live inside some kinds of cactus. The bugs are called cochineal and the female of the species is crushed with an ammonia or sodium carbonate solution to release a red dye, also called carmine.
The dye is commonly used in the textile, cosmetics and food industries. There is also an artificial cochineal dye which is derived from coal or petroleum products.
Does all tequila aged in wine barrels go pink?
It does not. There are many examples of tequila aged in wine barrels that aren't pink. If that's the case, why not?
Wine barrels may be reconditioned before being used. This involves cleaning out the inside and applying flame to the interior surface. This burns away any remaining red or pink pigment. For example, Mi Campo Reposado is aged in a mix of pinot noir and cabernet sauvignon barrels for three months and is not pink.
Barrels can also be reused, so what may have started as a wine barrel may have gone through several cycles of tequila aging. The pink color will only pass on to tequila in the first use.
Some tequila uses white wine barrels for aging, so while there's flavors from the wine, there's no pink pigment. For instance, El Mayor produces a reposado that is aged in chardonnay casks.
If they are aged in barrels, why are some pink tequilas called blancos?
While blanco translates as "white" the regulations around tequila allow for blanco tequila to be aged up to two months. Most tequila makers do not age their blancos in oak at all. In order to get the pink color, some contact with the wine is necessary.
Can't they just add a few drops of wine to the tequila?
In order to keep the "tequila" classification no extra ingredients can be added (just agave, water and natural yeast). If tequila producers were to add wine on its own, the product would need to be classed as an infusion.
The fact that left-over wine from the barrels doesn't count as an extra ingredient is something of a loophole. Technically you could just swirl the tequila around a used wine barrel and you could still call it tequila.
What are the differences between wine barrel and bourbon barrel aged tequila?
Tequila aged in wine barrels will have more fruit and floral notes, with a lively, sweet character compared to aging in bourbon barrels. If the barrel held red wine, then the color will also carry to the tequila.
The biggest difference comes from the first use. If wine barrels are used for a second or more times, there will be less color and flavor impacts from the wine. The longer the tequila ages, the less pronounced the difference will be, as flavors from the oak grow in prominence.
What brands make pink tequila?
Here is a list of pink, rosa or rosado tequilas made by different brands.
Pink tequila, colored from wine or sherry barrels
Código 1530 Rosa Blanco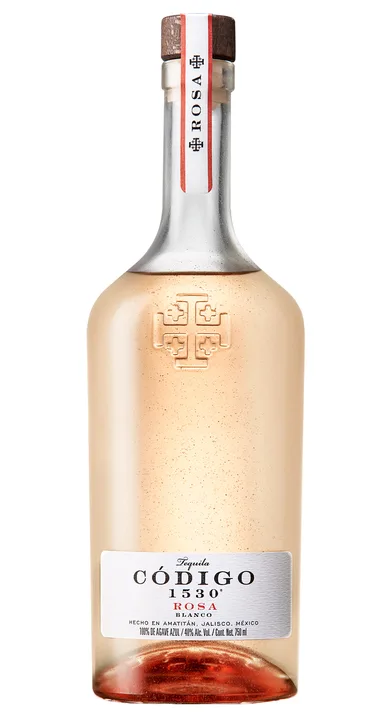 Style: Blanco
ABV / (proof): 40% / (80 proof)
Price: $64
NOM: 1616
Owner: George Strait / Pernod Ricard (majority owner)
Notes: This blanco tequila is aged for one month in French oak using wine barrels previously used for cabernet sauvignon from Napa.
Código 1530 Rosa Reposado
Style: Reposado
ABV / (proof): 40% / (80 proof)
Price: $64
NOM: 1616
Owner: George Strait / Pernod Ricard (majority owner)
Notes: This reposado takes the Rosa Blanco version and finishes it in Spanish Sherry casks for a double barrel aging process.
Calirosa Blanco
Style: Blanco
ABV / (proof): 40% / (80 proof)
Price: $51
NOM: 1459
Owner: Adam Levine, Behati Prinsloo
Notes: This pink tequila was launched in July 2021 by the Maroon Five singer Adam Levine, and his Victoria Secret model wife Behati Prinsloo. Aged in red wine barrels from California for one month.
Komos Rosa
Style: Reposado
ABV / (proof): 40% / (80 proof)
Price: $110
NOM: 1110
Owner: Richard Betts, Joe Marchese, E&J Gallo
Notes: Aged for 65 days in French oak cabernet barrels and packaged in Anfora porcelain bottles.
AsomBroso La Rosa
Style: Reposado
ABV / (proof): 40% / (80 proof)
Price: $59
NOM: 1459
Owner: Ricardro Gamarra, Jarrett Gamarra
Notes: Aged for three months in used French oak casks from Bordeaux. While this bottle is relatively affordable, AsomBroso also makes some of the world's most expensive tequila.
Don Julio Rosado
Style: Reposado
ABV / (proof): 40% / (80 proof)
Price: $129
NOM: 1449
Owner: Diageo
Notes: Released in February 2023, this tequila is aged for four months in French oak, port casks from the Douro region of Portugal.
Soy Rico Reposado Rosa
Style: Reposado
ABV / (proof): 40% / (80 proof)
Price: $65
NOM: 1531
Owner: Gilberto Partida Calderon
Notes: One of the longer aged pink tequilas, the Soy Rico Reposado Rosa is aged for eight months in French oak barrels that have been used for red wines. Soy Rico tequilas come in bottles with an extra shot of tequila stored in the bottle stopper.
Inspiro Rosa Reposado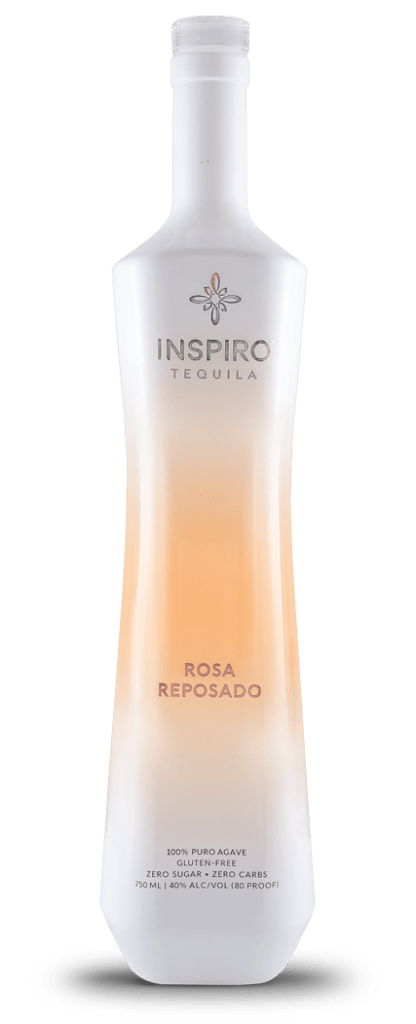 Style: Reposado
ABV / (proof): 40% / (80 proof)
Price: $79
NOM: 1614
Owner: Mara Smith
Notes: The only woman-owned and manufactured tequila brand on the list. Inspiro Tequila Reposado was launched in May 2022 as the first tequila to be aged in rosé wine barrels.
Celosa Rose Joven Rosa
Style: Joven
ABV / (proof): 40% / (80 proof)
Price: $129
NOM: 1479
Owner: José Alonso Beckmann, Paul Pietrini, Jay Bradley, Hugues Pietrini, Chris Radomski
Notes: The only Joven on the list, this tequila was made by the 12th generation descendant of Jose Cuervo (José Alonso Beckmann), the original tequila maker. Joven is a class of tequila made from a blend of blanco and aged tequila. Celosa Rose uses red wine barrels from the Napa Valley that previously held Pinot Noir and Cabernet Sauvignon. The brand was launched in July 2022 in France and Europe, and came to the US in April 2023.
Montagave Blanco Heritage
Style: Blanco
ABV / (proof): 41% / (82 proof)
Price: $75
NOM: 1123
Owner: John and Lucie Melvin
Notes: Aged in Bordeaux wine barrels. Different batches have different aging profiles. The first batch (Lot 172) was aged for 29 days and is the pinkest. The second batch (Lot 237) was aged for 57 days in barrels filled a second time, and is more golden color. Apparently current and future batches are aged 45 days with a blend of first use and second use barrels.
Pink tequila brands with color-added
Aha Yeto DIVA Rosa (called Aha Toro outside the US)
Style: Blanco
ABV / (proof): 40% / (80 proof)
Price: $47
NOM: 1548
Owner: Héctor Lizrraga Castelo
Notes: While pink, the color comes from hibiscus flowers. The bottle is distinctive, hand blown with pewter plaques. The bottle is pink colored at its base and colorless at the top to show the pink tequila inside.
Mejor Pink Tequila
Style: Blanco
ABV / (proof): 40% / (80 proof)
Price: $65
NOM: 1499
Owner: Family owned
Notes: Launched in 2008. Blanco tequila, no time in oak, with fruit flavor and coloring added, most likely from cochineal.
The Butterfly Cannon Rosa
Style: Infused blanco tequila
ABV / (proof): 40% / (80 proof)
Price: $37
NOM: 1438
Owner: Biggar and Leith (owned by Elwyn Gladstone and Mark Teasdale)
Notes: A pink grapefruit infused tequila but the color actually comes from carmine. The brand also has a blue tequila which changes colors when certain ingredients are added.
Tequilas with pink bottles (but not pink tequila)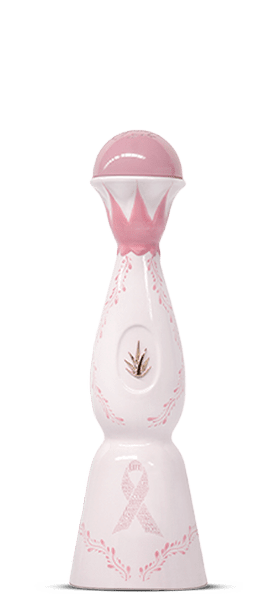 Clase Azul Pink Reposado
Style: Reposado
ABV / (proof): 40% / (80 proof)
Price: $4,240
NOM: 1595
Owner: Arturo Lomeli
Notes: This is not a pink tequila but does come in a pink bottle. Clase Azul released a special edition of its reposado in pink bottles, just 3,000 bottles, to raise funds for causes related to breast cancer. It is one of the most expensive tequilas in the world.
Jose Cuervo Reserva de la Familia (2019)
Style: Extra añejo
ABV / (proof): 40% / (80 proof)
Price: $170
NOM: 1122
Owner: Grupo Cuervo (Becle)
Notes: Each year Jose Cuervo releases an artist designed box for its Reserva de la Familia series. In 2019 the company released a pink edition designed by artist Jorge Pardo. The tequila inside is not pink.
Pink tequila cream liqueurs
Several tequila cremas are also pink. Tequila Rose Strawberry is a liqueur with a splash of tequila and looks like a strawberry milkshake. 1921 Crema de Tequila comes in a pink bottle although the liquid isn't pink, and looks more like Baileys Irish Cream. Both liqueurs are 15% alcohol by volume.
Most popular pink tequila
The most popular pink, or rosa tequila is Código 1530 Tequila Rosa Blanco, followed by Calirosa Rosa Blanco. Given Don Julio's wide distribution (it is the third highest selling tequila brand), expect the recently released Don Julio Rosado to grow quickly in popularity. Although at its price, around $129, it probably still won't match the volume of sales of Codigo 1530.
Most expensive pink tequila
The most expensive pink tequila is Don Julio Rosado, which costs around $129. Don Julio Rosado was released in February 2023 and is the first pink, or rosa tequila from a top 10 tequila brand.
Clase Azul has a tequila in a special edition pink bottle, Clase Azul Pink Reposado, that costs around $4,420. However the tequila itself is not pink, just the bottle.
Pink tequila cocktails
Pink tequila can be drunk on its own, with ice or is a great addition to eye-catching cocktails. These cocktails are perfect for summer and perfect for bachelorette parties. Here are a couple to try.
Pink Tequila Spritz
Ingredients
1.5oz of pink tequila
Splash of soda
Agave syrup (to taste)
Lemon wedge for garnish
Preparation
Pour ingredients into a wine glass over ice and stir
Garnish with a lemon wedge
Pink Tequila Margarita
Ingredients
1.5oz of pink tequila
1.5oz grapefruit juice
0.5oz fresh lime juice
0.5oz orange liqueur
0.25oz agave syrup
Splash cranberry juice (optional, to up the pinkness)
Lime wedge for garnish
Preparation
Combine all ingredients in a shaker with ice, shake vigorously.
Pour into a martini glass, or tumbler with ice
Garnish with a lime wedge
What to use if you don't have pink tequila
For cocktail making there are plenty of substitutes if you don't have pink tequila. Try experimenting with one of these to still get the pink effect.
Splash of rosé wine
Pink lemonade
Splash of hibiscus water
Pink grapefruit juice
Cranberry juice
Red food coloring (neutral flavor, a little goes a long way)