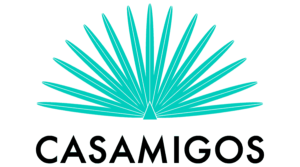 Founded: 2013
Owner: Diageo
Owner Headquarters: London, UK
Cases sold in 2022: 3.2 million
Bottles sold: 38 million
Value of retail sales 2022: US$1,530M
Norma Oficial Mexicana (NOM): NOM-1609
Distillery: Diageo Mexico Operaciones, Atotonilco El Alto, Jalisco
Region: Highlands
Casamigos is the fourth highest selling tequila brand in the world.
Casamigos Sales Trends
Casamigos tequila sales have grown massively in recent years with 3.2 million cases sold in 2022, up from around 100 thousand cases in 2017. A case is made up of 12 bottles. This represents a growth rate of 42.5% over 2021 or around 1 million additional cases. Casamigos has a tequila market share of about 6.9%.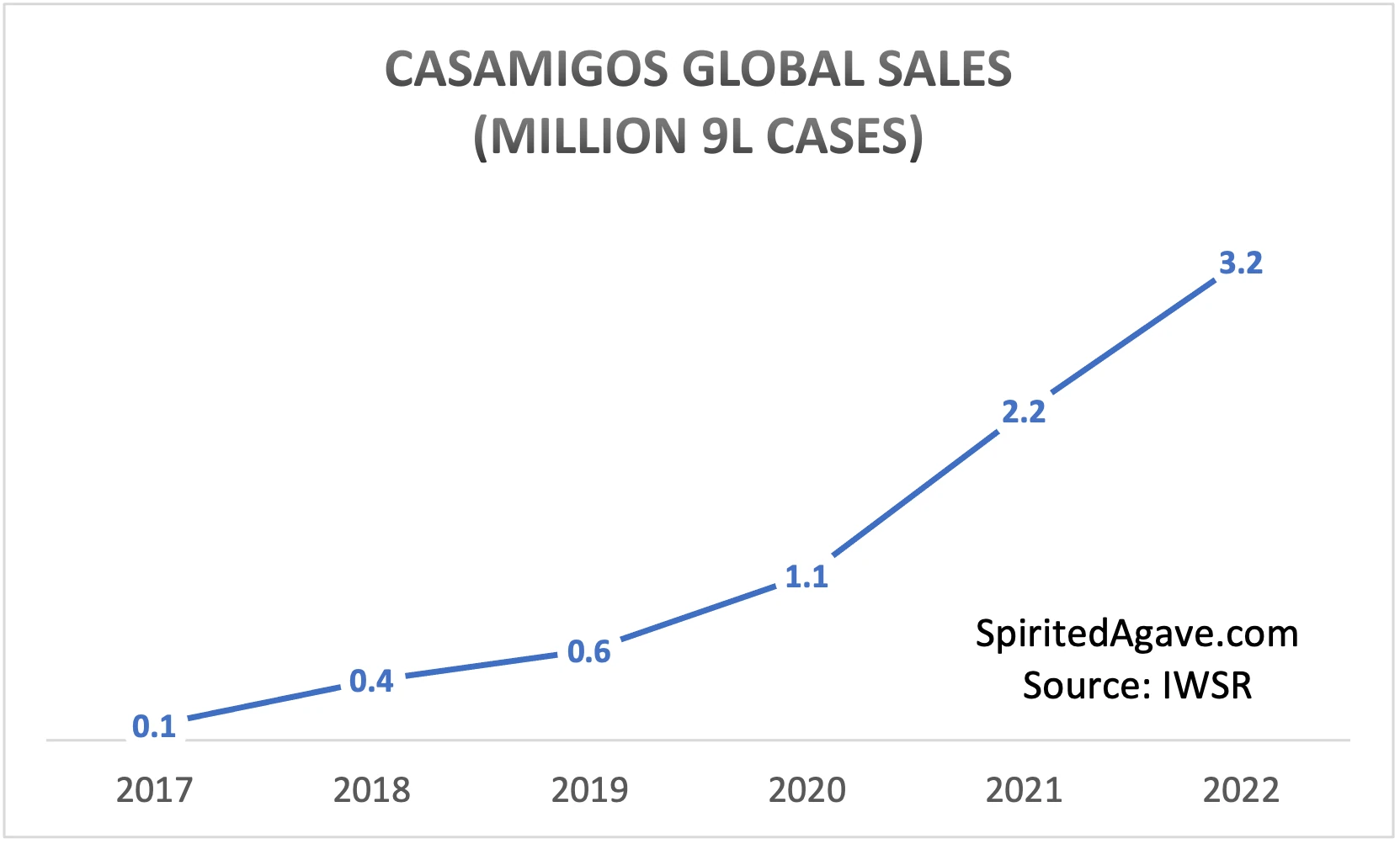 Casamigos Tequila Brand History
Famously founded by actor George Clooney and friends Rande Gerber and Michael Meldman, Casamigos is one of the original celebrity tequilas and a true success story for the founders, and for current owner Diageo. Sales of Casamigos grew at over 95% in 2021 and is the fastest growing spirit brand of 2022 according to publication The Spirits Business.
The founders set out to create a tequila for themselves, something with no burn. They honed their product after reportedly going through 700 samples. After they realized that between themselves and other friends they were ordering 1000 bottles a year they were told they would need to get a license. So they "accidently" launched a company which would go on to be one of the most successful tequila brands.
Diageo raised a few eyebrows in 2017 when it bought the still young Casamigos for $US1 billion. Although $300m was to be based on achieving sales benchmarks, it's pretty safe to say that these have been achieved given the explosive growth. Diageo has the second largest tequila sales of any company worldwide and also owns the third highest selling brand Don Julio.
The brand takes its name from the property where Clooner and Gerber have their homes in Mexico. The homes are part of a development by Meldman. The name roughly translates to "house of friends" and the origin story heavily leans on this.
Following the acquisition and growth, production shifted to Diageo's distillery in Atotonilco el Alto, the same place where Don Julio is produced. In the earlier days, Casamigos was produced at the distillery owned by Productos Finos de Agave in Jesus Maria, Jalisco. At the time this distillery also produced Clase Azul tequila although this brand has now also moved to a new distillery, Casa Tradición, in San Augustin, Jalisco.
George Clooney no longer has an ownership stake in Casamigos but has an ongoing promotional relationship. Rande Gerber has stayed on as chairman of Casamigos.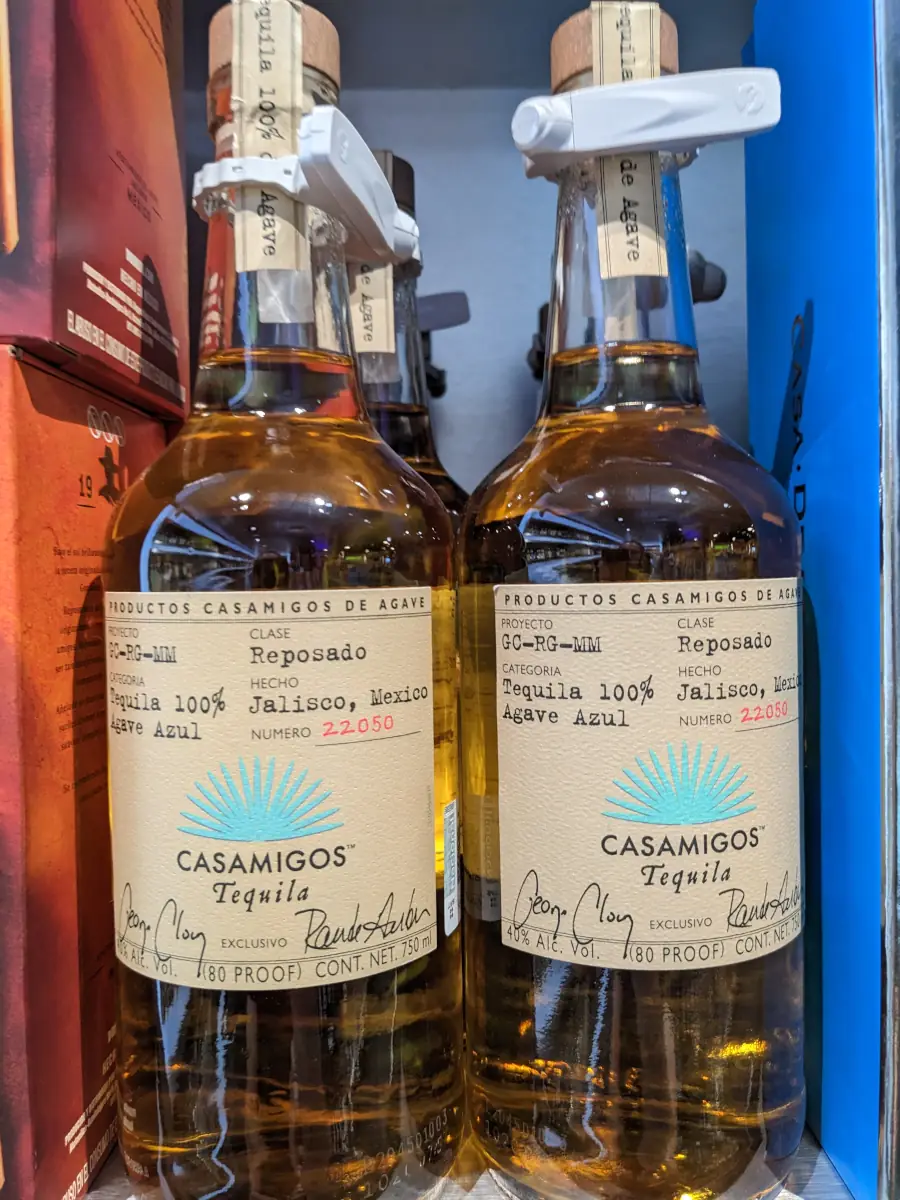 Casamigos Product Range
Casamigos' product line includes: blanco, reposado (aged seven months), añejo (aged 14 months). All of these expressions are 100% agave. There is also a mezcal which was launched in 2018, made in Oaxaca from espadin agave. Casamigo's mezcal is the fourth most popular mezcal brand in the US. In 2023 Casamigos launched a cristalino reposado – a clear tequila that has been charcoal filtered.